市委外办会见以色列驻广州总领事一行 Director General Cao Saixian Meets with Israeli Consul General in Guangzhou Alex Goldman Shayman
  1月11日,市委外办主任曹赛先会见到访的以色列驻广州总领事高文先生一行。市委外办副主任孙怀忠、以色列驻广州总领事馆副总领事骁艾伟等参加活动。
  On January 11, Director General Cao Saixianof Shenzhen Foreign Affairs Office had a meeting with a visiting delegation led by Consul General of Israel in Guangzhou Alex Goldman Shayman. Deputy Director General of Shenzhen FAO Sun Huaizhong, Deputy Consul General of Israel in Guangzhou Aviv Zell and others also attended the meeting.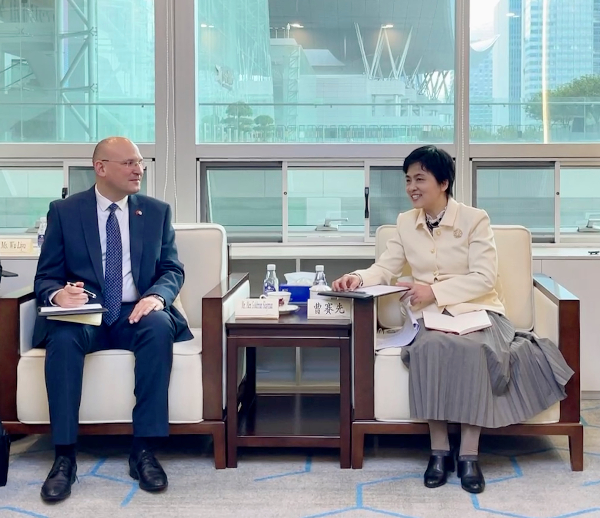 曹主任首先对高文总领事一行访深表示欢迎,并祝贺总领事履新。接着,曹主任介绍了深圳最新经济社会发展情况。她谈到,深圳是中国实施改革开放最早、建设最好、影响最大的经济特区,是中国经济中心城市、中国重要的创新中心城市、粤港澳大湾区核心引擎城市、全国文明城市。新时代,深圳正加快建设中国特色社会主义先行示范区,创建社会主义现代化强国的城市范例。她说,以色列创新资源丰富,被誉为"中东的硅谷",希望双方加强在科技创新、经贸投资、文化教育、友城交往等领域的交流合作。
  Director General Cao Saixian welcomed the delegation to Shenzhen, and congratulated on the new role of the Consul General. Director General Cao Saixian introduced to the delegation the latest socioeconomic developments of Shenzhen, and noted that Shenzhen is the earliest, best and most influentially special economic zone in China, and also known as the nation's economic center city, major innovation center city, core engine of Guangdong-Hong Kong-Macao Greater Bay Area, and earned the title of National Civilized City. In the new era, Shenzhen is moving faster to build itself into the Pilot Demonstration Area of Socialism with Chinese Characteristics, and creating a role model city of a modern socialist power. Israel is rich in innovation resources, reputed as the "Silicon Valley of the Middle East", she added, hoping that both sides enhance exchanges and cooperation in such fields as science and technology, economy and trade, culture and education, and sister cities' exchanges.
  高文总领事对曹主任的热情接待表示感谢。他说,深圳与以色列虽然相隔千里,但两地在发展理念、产业特点、科技创新等方面有很多相似之处。以色列是世界一流的创新型国家,在医疗技术、高科技、农业科技领域具有领先优势,深圳是一座创新型城市,与海法建立了友好城市关系,两地合作基础良好、潜力巨大。他希望重点推动两地在绿色能源、科技创新、国际展会等领域开展务实合作,欢迎深圳市政府及企业代表团访问以色列,寻找合作机会、拓展合作空间。  
  Consul General Alex Goldman Shayman thanked Director General Cao Saixian for the warm reception. He said that despite thousands of miles apart, Israel and Shenzhen share similarities in many aspects, including development philosophy, industrial features, and technological innovation. A word-class innovative country, Israel boasts leading edges in medical technologies, high technologies and agricultural technologies. Shenzhen is an innovative city, and has established sister city relations with Haifa, both sides enjoying sound basis and huge potential of cooperation. Consul General Alex Goldman Shayman emphasized on pragmatic cooperation on various fields, like green energy, technological innovation, and international exhibition, and welcomed Shenzhen municipal and business delegations to visit Israel for more opportunities and areas of cooperation.