2月2日下午,市委外办主任曹赛先率队拜访了广东外语外贸大学。该校党委书记、校长石佑启及国际交流合作处负责同志与曹主任一行开展了座谈交流。
  On the afternoon of February 2, Cao Saixian, Director General of Shenzhen Foreign Affairs Office led a delegation to visit Guangdong University of Foreign Studies. Shi Youqi, Secretary of the CPC Committee and President of the university and colleagues fromits International Exchange and Cooperation Department met and exchanged views with Director General Cao and her team.
  曹主任介绍了深圳经济社会发展最新情况及深圳外事工作主要情况。她谈到,深圳因改革开放而生、因改革开放而兴,是展示改革开放伟大成就的重要窗口,肩负建设中国特色社会主义先行示范区的光荣使命。近年来,深圳外事勇担当、善作为,着力打造国际交往合作平台,有力地服务和保障了国家总体外交和经济社会高质量发展。她希望广外发挥语言类专业种类全、水平高的优势,合作建设外事人才库,互通、共享外语人才,欢迎广外调动国别研究等智库资源、国内外知名教授等交往资源与深圳外办加强合作,助力提升外事干部工作水平和素养。
  Director General Cao introduced the latest social-economic development of Shenzhen and the key foreign affairs work of Shenzhen. She said that Shenzhen was born and developed because of the reform and opening up, and it served as an important window to show the great achievements of reform and opening up. The city also shoulders the glorious mission of building a pioneer demonstration area of socialism with Chinese characteristics. In recent years, Shenzhen Foreign Affairs has taken up the role and done a good job in building platformsfor international exchanges and cooperation, which has strongly served and supported the overall diplomacy of the country and high-quality economic and social development of the city.She hoped that GDUFS would give full play to its advantages of a wide range and high level of language disciplines, cooperate on building a foreign affairs talent pool, share and exchange foreign language talents. She also welcomed GDUFS to strengthen cooperation with SZFAO by mobilizing think-tank resources such as country specific studies and communication resources such as famous professors at home and abroad to help improve the level and quality of work of foreign affairs staff.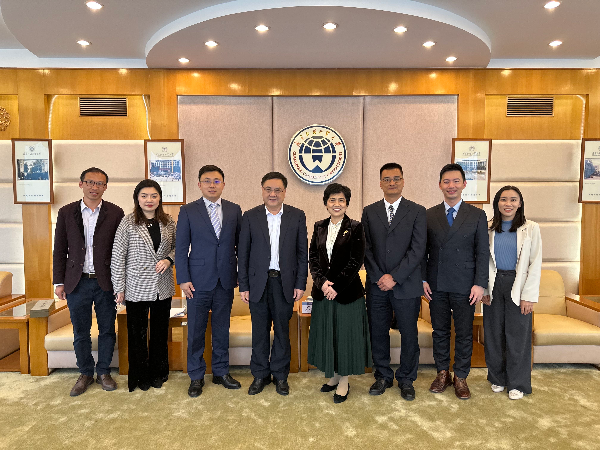 石佑启书记对曹主任一行到访表示热忱欢迎,并介绍了广外历史沿革、学科建设及人才培养等方面情况。他谈到,广外是广东省高水平大学重点建设高校,具有鲜明的国际化特色,已成为华南地区国际化人才培养、外国语言文学、全球经济治理、涉外法治和中华文化国际传播的重要基地。学校已与60个国家和地区486所大学和学术机构建立了合作交流关系,不断创新国际化人才培养模式,不断扩大国际中文教育事业的影响力。学校积极对接国家和广东重大战略需求,为社会培养大批高素质复合型国际化人才,重点开展21世纪海上丝绸之路、全球经济治理、周边外交战略、涉外法治等相关研究,打造新型高端智库。他表示将持续深化与深圳外办在人才共享、国别研究、实习交流等方面的密切合作。
  Secretary Shi expressed his warm welcome to the visit of Director General Cao and her colleagues, and shared the history, discipline development and talent cultivation of GDUFS. He said that GDUFS is a key university in the province, with distinctive international characteristics, and has become an important base for international talent training, foreign language and literature, global economic governance, foreign-related rule of law and international dissemination of Chinese culture in South China. The university has established cooperation and exchange relations with 486 universities and academic institutions in 60 countries and regions, continuously innovating the international talent training mode and expanding the influence of international Chinese education. The university actively align with the major strategic needs of the country and Guangdong, cultivates a large number of high-quality comprehensive international talents for the society, focuses on the 21st Century Maritime Silk Road, global economic governance, peripheral diplomatic strategy, foreign-related rule of law and other related research, and builds new types of high-end think tanks. He said that he would continue to deepen the close cooperation with SZFAO in talent sharing, country specific studies and internship exchanges.