深圳市政府外办主任曹赛先荣获巴西政府里约·布兰科奖 Director General Cao Saixian Was Awarded the Order of Rio Branco By the Brazilian Government
  2月15日,巴西驻广州总领事杜飞在官邸隆重举行颁奖仪式,代表巴西政府向深圳市政府外办主任曹赛先颁发里约·布兰科奖章和证书。
  On February 15th, Frederico S. Duque Estrada Meyer, Consul General of Brazil in Guangzhou, held an awarding ceremony on behalf of the Brazilian government at his residence to confer the medal and certificate of the Order of Rio Branco on Director General Cao Saixian.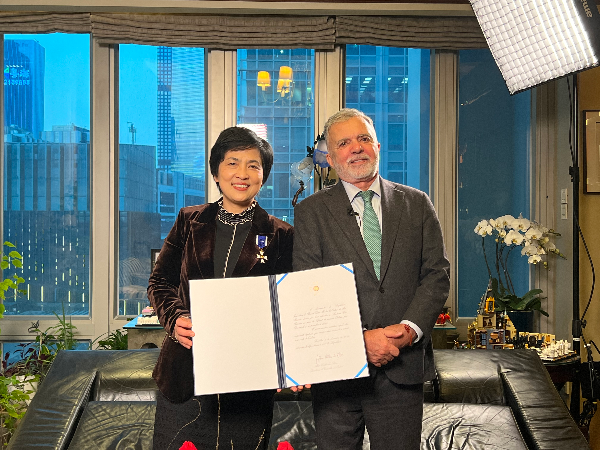 里约·布兰科奖章是以巴西外交事业建立者——里约·布兰科男爵命名,根据时任巴西总统若昂·古拉特1963年第51697号法令设立,以嘉奖受巴西政府认可具有卓越功绩或良好美德的本国及外国的个人或法人。这是我市首次获此殊荣。
  The Order of Rio Branco is named after Baron Rio Branco, the founder of Brazilian diplomacy, and was established by Decree No. 51697 of 1963 of the then President of Brazil, João Goulart. The Order is a medal of honor by the Brazilian government that intends to reward Brazilian or foreign individuals for their meritorious services and civic virtues. This is the first Shenzhen individual to receive this award.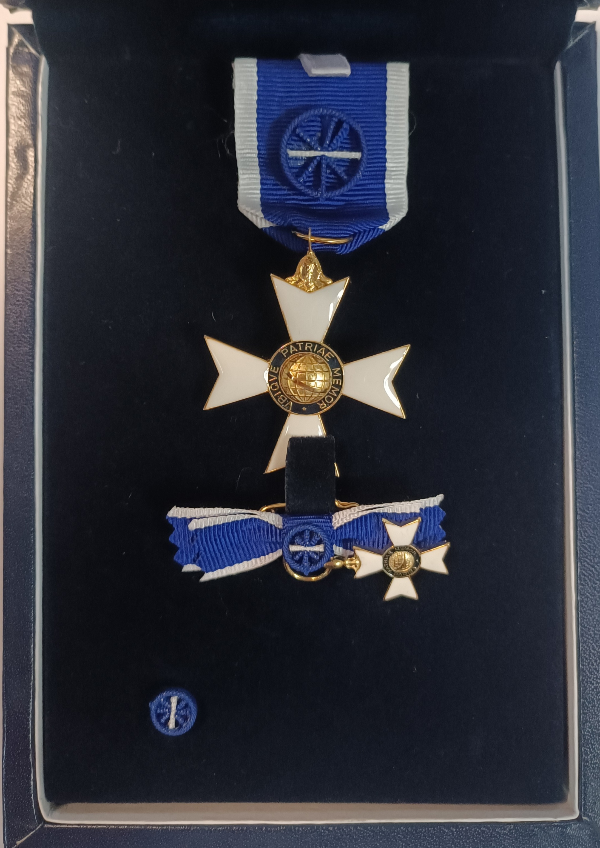 杜飞总领事在致辞时表示,鉴于曹赛先女士在推动深圳与巴西友好关系中所做的不懈努力和卓越贡献,巴西总统特授予其里约·布兰科军官级勋章。作为科技创新中心,深圳与巴西保持着密切的合作,华为、中兴、比亚迪、腾讯等深圳企业在巴西均有投资,对巴西的基础建设作出了积极贡献,并推动了当地政府及公营机构的数字化。深圳和巴西的圣保罗和里约建立了友好交流城市关系,相信未来双方将在商贸投资、文化旅游、城市规划及智慧管理等领域开展更多合作。非常感谢深圳市在疫情期间向巴西友城捐赠口罩等防疫用品,巴西驻广州总领馆愿与深圳外办一道,共同推进深化双方的交流合作。
  In his speech to present the award, Consul General Meyer said that in view of the tireless efforts and extraordinary contribution by Director General Cao Saixian in promoting friendship and cooperation between Shenzhen and Brazil, the President of Brazil awarded Director General Cao Saixian the Order of Rio Branco in the rank of officers. Shenzhen, as a center of science and technology innovation, has maintained close cooperation with Brazil. Shenzhen companies such as Huawei, ZTE, BYD and Tencent have invested in Brazil, making contributions to the country's infrastructure development and promoting the digitalization of local government and public institutions. Last year, Shenzhen and Rio de Janeiro became friendship cities, and the two cities will cooperate more in trade and investment, culture and tourism, urban planning and intelligent management. Brazil is grateful for the donation of masks and other personal protective equipment by Shenzhen to its Brazilian friendship cities during the COVID-19 pandemic. The Consulate General in Guangzhou hopes that it will continue working with Shenzhen Foreign Affairs Office to promote and deepen cooperation between the two sides.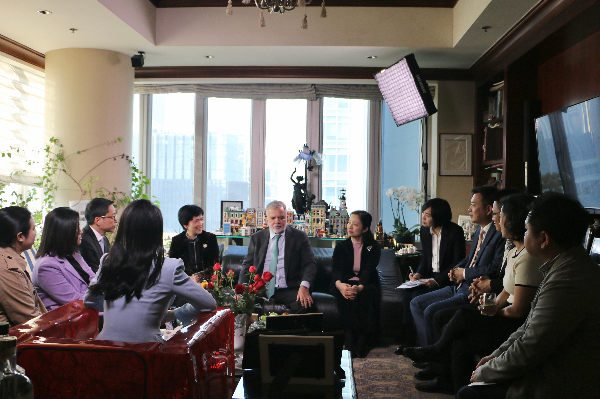 曹赛先主任发表了获奖感言,她表示,非常荣幸获得这个具有重要意义的荣誉,这既是对她个人的褒奖,也是对深圳和巴西近年来友好交流合作的高度肯定,这个荣誉属于所有参与深圳与巴西交流合作的机构和人士。中巴是具有全球影响的发展中大国和重要新兴市场国家,互为全面战略伙伴,拥有广泛的共同利益,担负着共同的发展责任。近年来,深圳和巴西在经贸、科技、职业教育、抗击新冠疫情等领域开展了形式多样的交流合作。在杜飞总领事的大力推动下,深圳与里约于去年8月签署了友好交流合作备忘录。展望未来,深圳市政府外办愿同巴西驻广州总领事馆携手努力,继续深化深圳与巴西在各领域友好交流,推进双边务实合作,为推动中巴全面战略伙伴关系迈向更高水平,更好造福两国和两国人民作出积极贡献。
  In her acceptance speech, Director General Cao Saixian said that it is a privilege to receive this significant honor, which is not only a personal praise, but also a high recognition of friendly exchanges and cooperation between Shenzhen and Brazil in recent years. This honor belongs to all the institutions and colleagues who are part ofthe exchanges and cooperation between Shenzhen and Brazil. China and Brazil are major developing countries and important emerging markets with global influence. The two nations are Comprehensive Strategic Partners with extensive common interests and shared development responsibilities. In recent years, Shenzhen and Brazil have carried out rich exchanges and cooperation in the fields of economy and trade, science and technology, vocational education, as well as the fight against the COVID-19 pandemic. Thanks to Mr. Meyer's strong support, Shenzhen signed a memorandum of friendship and cooperation with Rio de Janeiro in August last year. Looking ahead, Shenzhen Foreign Affairs Office is willing to work hand in hand with the Consulate General of Brazil in Guangzhou to deepen friendly exchanges between Shenzhen and Brazil in various areas, promote bilateral cooperation, and make contribution to elevating the China-Brazil Comprehensive Strategic Partnership to a higher level for the well-being of both countries and peoples.
  深圳市贸促委副主任汤进、深圳市政府外办副主任钟嘉俊等出席颁奖仪式。深圳市主要媒体对杜飞总领事进行了专访。
  Tang Jin, Deputy DirectorGeneral of CPPIT Shenzhen, and Zhong Jiajun, Deputy Director General of Shenzhen Foreign Affairs Office, also attended the award ceremony.Consul General Meyer received interviews by Shenzhen TV and Shenzhen Daily.
  点此链接查看巴西驻广州总领事杜飞专访